We have reached the required 500 pre-orders for the
Never Forget license plates!!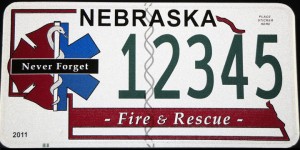 According to the Nebraska Department of Motor Vehicles Driver and Vehicle Records Division once the 500 application minimum is met, all applications will be processed and the applicants will receive an approval letter from the DMV. The letter indicates the date the plates will be available at the County Treasurer's office and the County Treasurer's telephone number to verify the Treasurer has received the plates. Current plates and registration must be surrendered when the organizational license plates are registered. Additional fees for production of the license plates and new registration will be charged.
The LODD Team will no longer be involved in the "process" once the DMV takes it over so nothing is under our control, it will all be determined by the DMV Office. If you have any questions you can contact the DMV Office directly at 402.471.3918.
HONOR * RESPECT * NEVER FORGET